Boat Rentals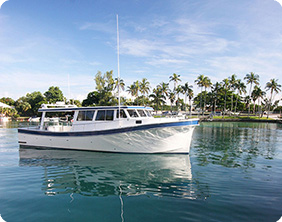 The BZS vessel RV Endurance is available for daytime and evening charters and is a great way to entertain your guests for private parties.
Endurance is a 45 ft. lobster-style vessel with a capacity of up to 45 passengers. Captain Nigel Pollard and our experienced crew will ensure your charter experience is perfect from beginning to end.
In addition to dinner and cocktail cruises, you may also book our popular glow-worm trips, cahow watching excursions and snorkelling trips. Snorkel gear is available for your use. We are more than happy to organize a special experience for you and your guests.
For more information phone (441) 293-2727 ext. 2151 or email endurance@bzs.bm.
For more information on catering for your event, email catering@tfl.bm and download the catering menu.
Download a Boat Rental Booking Form
Download a Boat Rental Waiver
COVID-19 UPDATE: We expect all guests and passengers to comply with Government Guidelines and Recommendations. Please, note that number of passengers may vary depending on these recommendations. The current maximum numbers for passengers at our vessels are: 20 passengers/guests on board the RV Endurance and 15 passengers/guests on board Callista.